>>> Put this date into your calendar now: Friday 29th May <<<
Hi there, Mover and Shaker!
So you're ready to make a shift in your Prosperity?
Awesome!
Ok, so here's where we're at so far:
We've already put in a lot of work behind the scenes to make sure that this in-person event is going to rock your world.
I'm just firming up exactly how to cram as much transformation and content into the time we'll have together, and I'm really excited about it!
This event is only for people who are serious about creating a shift in their level of prosperity and are ready to have the rubber meet the road.
It's not for folks who want someone else to "save them" from a mountain of debt, or do the hard work for them. This is only for Movers and Shakers who take responsibility for where they are and are ready to create their own transformation… with some help and guidance.
No one can do it for you. You have to be a

willing accomplice

in your Shift. 🙂
Now, if you remember, I first started thinking about doing this because I realised what an impact an in-person event can have on folks. But it wasn't until two of my mentors gave me a kick up the posterior that I actually stopped making excuses to hide behind my computer, and get out and actually do this.
And so it is 😉
My soul aim (and I mean my SOUL aim in the very literal sense) for this workshop is for you to create an upwards shift in your prosperity.
Even if:
You're not sure what to do or where money can come from
You don't yet know how to make a transition
You grew up in a negative or limited environment
You've tried a hundred things before
You feel like a failure when it comes to money
You can't figure out why you're smart, and yet see people with a fraction of your smart-quota surpass you
The good news is, that none of the above matters.
Because even if you resonate with all of those points, during the workshop we will address each of those perceived limitations, and I'm going to give a process for both the TANGIBLE and the EMOTIONAL – so you can get yourself aligned from both perspectives and finally be ready to allow the prosperity in.
How do I know this?
Because I've done it for myself.
And for hundreds of others who now live more prosperous, exciting, and fun-filled lives…
And there's no reason why everyone (and by everyone, I mean YOU!) shouldn't have access to this same process.
Here's where we're at with the Prosperity Shift In-Person Training Event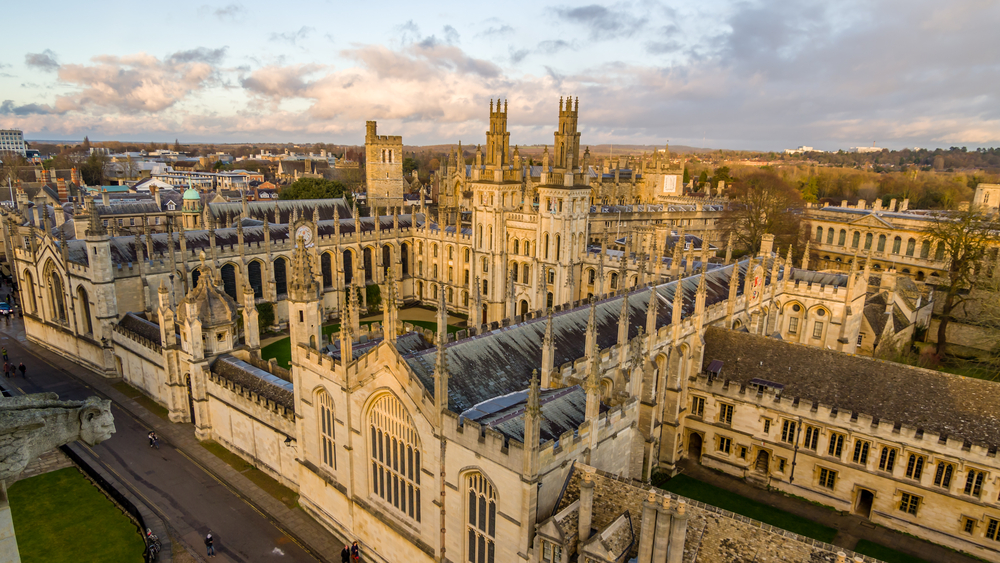 As you may be aware, back in November I launched a pilot programme – the Prosperity Shift online training. Since then we have had nearly 100 students through, and the feedback and shifts they've created has been astounding.
And it just made me more certain that these techniques and models I've developed are something that I need to get into the hands of more people.
But of course, there are nuances, and questions, demonstrations and profound experiences which cannot be conveyed over an online programme.
So I developed the in-person training for those who have taken the course, to take their learning –their experience – to the next level.
It was really meant to be an advanced training, as a bonus to see how it would go.
But the more I talked about it with people around me, my friends, clients and mentors, the more it became apparent that I should open it up to others.
So I asked what you thought, and after extensive consideration, and discussions with a number of people in the group, I've concluded that even though it will take a bit of effort to get everyone on the same page –it will be worth it to have more people make the shift more quickly.
(In case you haven't heard me mention this before, there is a shift in consciousness happening on the planet right now, and we each have a part to play… and we need to be ready! Lol. That wasn't a Torchwood line, promise…)
Back to the point:
I'm opening up ticket sales to the whole ProsperityQM community, even if you haven't taken the Prosperity Shift course.
But there is a proviso.
The guys who helped me shape this event, have already worked through a number of exercises and started their shift. In fact, a number of them are now a part of the Money Mentoring Group and have integrated the emotional releasing process into their daily lives.
To say they are flying is an understatement.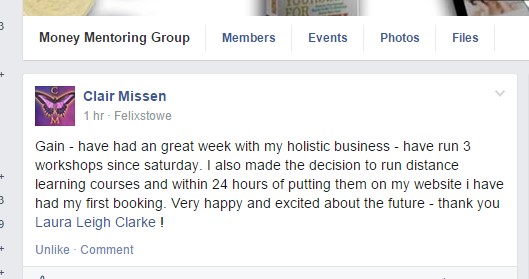 This is an existing business Clair has been running for 4 years. Since taking the Prosperity Shift programme she has reported a number of positive shifts.
About 2 minutes after posting this gain, she had another person book onto her course.
So, to make sure no soul is left behind, there is going to be a bit of prep-work to do in advance of the event.
Nothing arduous.
Just some light exercises to get you aligned, and thinking, so that when you get to the event you're perfectly primed for your prosperity shift.
After all, if you're still reading, you're not the kind of person who shies away from doing what needs to be done. A bit of focussed attention and prep never scared you away, right? 😉
(Line up and raise your hands, you Type A personalities, lol)
So here's what we're going to cover in order to help you make this shift….
During this INTENSIVE training you will learn:
How to clear out emotional charge around money – even if you've had a lot of beliefs from childhood, setbacks, or never experienced what it is to feel abundant
Your best strategy for success in your life's work (If you're working against this, you're needlessly working hard, and suppressing your results)
How to make the transition from where your business is right now, to where you want it to be, without taking a drop in income
How to straight away free up more time, and energy for the parts of your work you love most
And how to get rid of the things holding you back, keeping you busy but not productive – even if you haven't yet got a team.
How to clear out any and all money blocks, CONSISTENTLY
The most effective DEFINITION of prosperity for you (and why this is soooo important!!)
How to use your new definition of prosperity to create more wealth quickly
What the Prosperity Spectrum is, and how it flat-out dictates your level of wealth at any given moment. (We're in the process of developing a test to measure this, and you'll get access to the beta version).
Why you can be so positive and yet not able to get results when it comes to money
Clear out the constant oscillation between being super-confident then doubtful about your abilities with money
How money blocks are set up
How conflicting (and hidden) emotions around money and success are sabotaging your efforts
You Will Also Receive
Access to the Prosperity Shift LIVE member area where you will have access to:
 The Prosperity Spectrum Test (you'll hear more about this in the event)
The worksheets we'll be using in the LIVE event
The pre-course material, including worksheets, and pre-course content
Easy to download and convenient to use on your phone, audio of the group clearing sessions
Your Prosperity Action Plan Worksheet which will summarise your next steps for the 30days following the event. The aim is for you to leave transformed, but also able to take immediate action in the direction of your upward Prosperity Shift!
And you'll have the benefit of my expertise and experience to answer your questions during the sessions, at breaks… and I'll make time to hang around in the bar afterwards too 😉
What You Can Expect After A Shift
Imagine getting back home after attending the in-person training, and stepping in the front door.
Everything is the same, but different.
You're different.
You see the world in a different way, almost as if your brain has been re-wired and you're just more aware, more awake than you've ever been.
Even as you drop you keys down in their usual place, you're appreciative of the beauty around you; the wealth you're already surrounded by before you've even begun to make the changes we talked about in the event.
As you wander through your home, you reflect on the whirlwind trip: the people you're now connected with, the insights you gained, the blocks you've released yourself from.
And while you're probably still re-jiggling energetically from the shifts you've experienced in your picture of the world, you already feel more peaceful, prosperous and clear on your next action-steps.
You may even have seen during the event how you can make some small tweaks to what you're already doing, so that you increase your income, get more free time, or make a start on another project that fills you will passion and purpose!
Of course, different people experience different things.
Some folks find that by eliminating even just some of their money blocks, allows certain things to come into their experience without them even focussing on it:
Like Patty.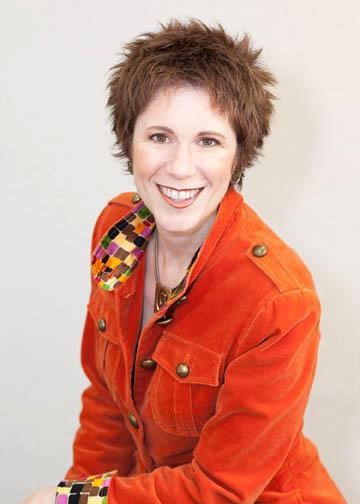 Patty is awesome. She's one of my favourite people to work with. She's just so open to the energetic shifts that happen, and is equally happy to work on the tangible strategic stuff of growing her business.
Before Patty and I started working together she did some of the pre-coaching prep work.
It was a self-esteem map, around securing big ticket contracts.
At the time, she was struggling with a corporate client who always knocked her down on price. I mean, her rates were pretty low as it was, so there wasn't much room for manoeuvre… And each time, she ended up getting squeezed.
So she started working on her map, so that she could unpick all the limiting beliefs, emotions and general thoughts and feelings that made her compromise herself financially.
This map got forgotten: stored under her bed, as we moved on with the other things we needed to put into play for her prosperity shift.
Not long ago, on a call, we evaluated her progress as we were musing next steps.
Patty had done incredibly well. She had doubled her income over the year before and had just received news about that same corporate client who had previously always knocked her down on price.
This time she'd raised her rates. (I make people do that now and again, lol)
Funny thing was, her proposal was accepted and paid in full.
No questions.
No haggling.
No push back, or trying to erode her value.
Paid. In. Full.
Not only that but another client signed the biggest contract she had ever secured!
She'd just got done telling me about it, and suddenly she remembered something she wanted to show me. She dived off-camera to go and grab something, and when she came back, she had a huge piece of card wrapped up in plastic. It had been in storage.
She opened it up and brought it closer to her webcam. I could just about read the writing on it.
It was Patty's handwriting, and I recognised straight away it was a self-esteem map.
Looking closer, as she urged me to look at the topic she had been working on, I giggled with excitement as I read the words that had been sitting under her bed for the last several months.
In the central bubble were the words: "Big Ticket Contracts"
"I guess this just worked, eh?" she grinned, pleased as punch at her fantastic results.
And the realisation that she is in control of her material world after all.
********
Sometimes, what happens first a freeing up from limitation.
After all, in the hundreds of conversations I've had about prosperity, one thing that comes up time and again is the concept of FREEDOM.
Imagine finally being free and in control of the choices you want to make for your business… and your life.
Often the reason we want more money, or wealth is simply so that we're no longer constrained by a constant worry to pay the bills, or to keep everyone happy.
What if the bills got paid and everyone was just happy without you having to constantly manage that? Would that be a massive tick in the prosperity column for you perhaps?
Have You Ever Wondered?
I think it's worth acknowledging that these are some of the most prevalent doubts that folks have when they're really considering making a shift, and making a change in their results.
Perhaps you resonate with some of these?
1. "I've tried lots of personal development, and still no matter how positive I try to remain, I've not managed to break through this invisible ceiling on my finances. How is one more course going to make a difference?"  
This is a really great question.
Why?
Because it shows a real desire to make a change. The problem is, often the pushing, the wanting, is the very thing that is stopping us from having. Think of the two things as being mutually exclusive. You can't want and have at the same time.
Using the process of emotional releasing, you will learn in the workshop exactly how to release all sides of a problem – all the "wants," all the "don't wants", all the wishing, hoping, trying… so you can allow, and fall into having.
This in itself creates a massive shift in how you interact with the world.
Remember, you'll be letting go of wanting, so you can have… not so you don't want it anymore! So you can HAVE it.
2. "Things are going ok. I'm making 6 figures, so I'm pretty fortunate, but running the business I still just feel a bit strapped for cash. I mostly think I know what I'm doing, so guess I just need to work harder?"
I hear this quite a bit.
Perhaps you can feel the dilemma in the words above. A bit of "I've got this", couples with a bit of "Eeek, maybe I'm stuck", and a sprinkle of fear.
Making a shift is harder going into it. Once you're shifting, it's fun and exciting.
It's the run up to the commitment.
The deciding to make a change that is tough.
And in this time, all kinds of feelings come up in the background.
The thing is, most of us aren't aware of our real emotions happening in our body. Sure, if someone jumps out and scares you, or you have a row with a friend, you'll feel it. But it takes a degree of subtle awareness to pinpoint things that are happening in an arch bigger than the day to day.
The reality is, a huge number of people are up-leveling and transitioning right now, and that brings up feelings. But since our logical mind is trained to attach it to he mundane (lack of sleep, stress at work, something we ate, conversations we've had recently….) we find logical reasons to wriggle out of our next level of growth.
"Oh, I'm too busy to get along to a workshop."
"I'm already making money. I just need to figure out on my own how to keep it."
"Oh, it's not urgent. I'll sort it out another time when xyz is sorted. "
Any of this sound familiar? 😉
Let's be clear: working harder isn't going to change anything. You need to change your internal wiring. Your inner game.
If you don't make time for it now, when are you going to make time for it?
In a year?
Two years from now?
There is no such thing as a convenient time to tackle these things, because your inner world will keep creating excuses in your outer world until you decide to take charge and make the change first.
If these things are resonating with you, it is possible you're hearing the call, and it's a bit unnerving. That's ok. Just tune in, and ask what is best in your highest and best good.
And just be aware, that you can waste YEARS of your life stalling the next stage of your evolution.
Believe me. I've done the same too…!
3. "Oh, it sounds really amazing, but I'm not sure I can afford the travel, and the time away from work/ family/ [insert another plausible reason here]."
Ok, so I have two thoughts to share on this one.
Firstly, the people who travel the furthest to these kind of events, and have the most inconvenience to overcome, often get the best results.
Why?
Because they get committed.
What you may find if this one is resonating with you on any level is that when you take one step, the universe takes one step towards you. You take five steps – you guessed it, the universe does the same.
You're putting out the message that you are important.
Your life on this Earth means something to you, and you're ready to do what you need to do to make the transformation necessary.
By traveling, you're going to go on a QUEST to engage in your bigger picture and evolve at a very personal level.
Let me be very clear though:
If you're drowning in a mountain of debt, this isn't going to save you.
You need to buckle down and do the hard work, and apply the basics to pay off your debt, and get a handle on your finances. I'd also recommend the very low cost Money Mentoring Group to get a handle on the money blocks which are creating those circumstances. Mail me if you want a link to that.
If however, you're in a place where you've reached a plateau in your earnings and you're wanting the next thing to up level your prosperity in every area of your life – including your bank balance, and your balance sheet –then this is a totally different story. This event was made for you, and there are conversations happening here that you're going to want to be a part of.
Next time we do this event (next year probably) the eventual price for the "Prosperity Shift" in-person training program will probably be somewhere in the $1000-$2000 range, but for this initial event you can enroll for only $297.
What's the date for the event Laura?
>>>>> Friday 29th May<<<<<
Here's the trade-off, attending this inaugural event for a discounted rate…
There is going to be some pre-training prep.
The reason for this is because we need to make sure everyone else is up to speed, and on the same page before we hit the training.
That's not to say there is going to be an overwhelming amount of work, but there are some things that I need you to consider before we get into the room and start mixing things up.
The homeplay will be sent out during the two weeks into the run up to the event.
This will be a combination of emails to read through, to get your contemplating and tuning into the things that are going to become important, and a series of three worksheets.
Ok, so that said, if you're interested, I wouldn't waste any time – jump to the front of the line and sign up right now.
Spaces are going to be limited by the size of the room, and I don't want you to be left out in the cold.

My 100% Money-Back No-Questions Asked Guarantee
I'm gonna make this really simple…
If the training isn't right for you, then I don't want your money.
If at any time during the morning session of the "Prosperity Shift" in-person training you feel that it isn't the right fit for you, just let one of my team know and your tuition will be refunded, no questions asked.
(This is an exception to the policy on the shopping cart so you can ignore the standard policy for this purchase).
I look forward to seeing you in Oxford!

P.S. A word of advice – if you want this, you should move fast. There are only about 20 spots left at the early bird discount rate. After that the price goes up to $497. As I said, I want to reward people who take action and commit.
Go ahead and click the link now to make sure you secure your space asap.